Contact Information
South Florida New Holland Equipment Corp and/or FORTRAC
1995 NE 8th Street
Homestead, Florida 33033
Phone
: (305) 247-1321
Fax
: (305) 245-5741
Se Habla Español
Hours of Operation
:
Monday
Tuesday
Wednesday
Thursday
Friday
Satuday
Sunday
7:30 AM - 5:00 PM
7:30 AM - 5:00 PM
7:30 AM - 5:00 PM
7:30 AM - 5:00 PM
7:30 AM - 5:00 PM
7:30 AM - 12:00PM
Closed
Welcome to SOUTH FLORIDA NEW HOLLAND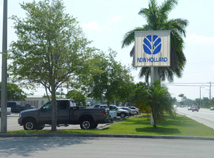 Founded in 1958, South Florida New Holland Corp., doing business as
FORTRAC
, is located in Homestead, Florida. We serve Miami-Dade, Monroe, and Broward counties as an authorized dealer for New Holland, Alamo, Honda and other manufacturers.
We offer multiple lines of agricultural, commercial, and consumer products such as tractors, utility tractors, attachments, lawn mowers, chainsaws, weed trimmers, and much more. We supply our customers with only brand new, original parts for all of our brands.
Our
parts
and
service
departments will take care of all of your needs, giving you the best possible customer service. Our goal is to provide excellent customer service and maintain our clientele for future projects. Because we are the only South Florida Distributor our prices are economically friendly.
Contact us at (305) 247-1321 or email us at
sales@fortrac.com
. It will be a pleasure helping you find the right equipment for your specific needs.